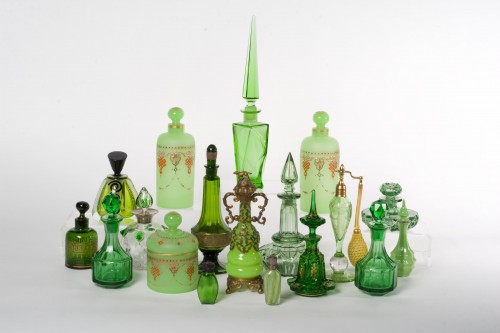 The beautiful thing about antiques is that they are intrinsically green. Buying antiques helps us to consume less and reuse more, one of the most important pillars of the green movement.  The mass production of consumer goods over the last century has been filling our landfills with discarded packaging and products.  Many modern goods are manufactured to be disposable. Companies perform studies to determine how soon goods can breakdown without consumers losing faith in the product.  This ensures that you will replace a faulty and poorly crafted item without changing brands.  These are just some of the reasons why we choose antiques.
Our store is a stronghold for a lost age of craftsmanship and quality.  The artisans of earlier eras created phenomenal works in metal, pottery, ceramics, wood and precious & semi-precious jewels– all materials that are natural and beautiful.  When you buy an item that has already had an owner, a history and a purpose, you are choosing not to contribute to overconsumption.  You are choosing to make a difference.  Most products depreciate in value, when you purchase an antique item, you are being a financially smart consumer as well; many antique items gain value with age and are often an heirloom with a wonderful story.
Come to Toronto Antiques on King to explore our outstanding collection of antiques, estate and vintage items. Find something for your home that represents your values: craftsmanship, quality, and enduring usability and charm.
Green tips for Antiques: How to maintain the life of your precious objects
Never wash or submerge antique glass or ceramics in harsh detergents or chemicals as it can harm the surface. Dust items first and then wash with a damp cloth with minimal soap.
Silver does not need to be cleaned often and tarnishing is a natural process that does not harm the metal.  Polish silver carefully when necessary and do not use a bristle brush or steel wool as it will scratch the surface.  Maintaining the life of your silver objects helps to ensure that they will be around for generations.   We recommend Peek Polish.
The patina (the deepening of colour, lines and marks) on brass, copper and silver is a thing of beauty, showing the age of the object and its unique history.
Remove your antique rings or bracelets when doing dishes or completing any tasks that may rub or scratch your jewellery – especially high karat gold.
Don't wear fine antique or vintage jewellery to the gym, where you are using weights and machines.
Wax antique wood objects and furniture with a beeswax based product, not a spray wax
Keep fabrics and furniture out of direct sunlight to preserve the colour and lengthen their lifespan