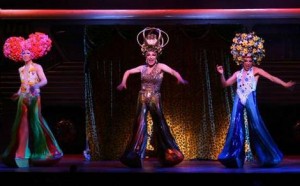 The staff at Toronto Antiques on King are squinting today and it's not because we've been looking directly at the sun. It's because we've been selling a lot of vintage costume jewellery and boy, does it sparkle something fabulous. Nothing excites our enthusiasm for vintage costume jewellery more than Mirvish Productions' Priscilla: Queen of the Desert. What a fabulous show! To be in the audience at opening night was to be among Toronto's A-list of celebrities and fabulous drag queens, all wearing their glam-fab best.
Drag-queens and costume jewellery go together like peanut butter and jam. No other sub-culture has done more to promote glamour than drag-queens. Queens not only push the boundaries of sex and performance, but also of fashion. The vintage jewellery industry is successful today in part because of queens and their historically controversial performances. At Priscilla the fabulous jewellery was not just on stage, but also in the audience. I saw both queens and non-queens bedecked in glitzy costume jewellery, proof of the impressive effects that drag-glamour has had on mainstream culture. (I even saw uniformed police wearing pink boas!)
Visit us and have a look at our vast selection of fit-for-a-queen vintage costume jewellery. Soon we will have a selection of our Sherman costume jewellery up on our website—Just in time for your Christmas shopping.
What kind of jewellery do you wear to holiday parties?
http://www.cynthiafindlay.com/sherman+jewelery