We had a great day with Judith Miller, author of the 2011-2012 Antiques Price Guide,  on Tuesday. We loaned Judith a load of interesting and quirky antiques to aid her appearance on Breakfast Television Tuesday morning (she supplied her own fake!). She used our Chinese vase to discuss the rising interest in Chinese antiques and our czech glass lamp to elaborate on vintage decorating trends. We want to thank Manda Group mandagroup.com for supplying Miller and organizing this event.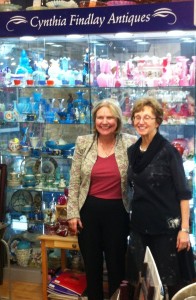 Following her Breakfast Television event, Miller came to Toronto Antiques on King for a book signing, a media interview, and a free identification clinic. We all had a great time, had entirely too much coffee and learned a lot from Miller.


Although we are only blessed with visits from Miller once every few years, we do always have an expert on staff who can talk with you about your treasures. We are always buying interesting jewellery, silver, china, glass and porcelain. Please contact us to make an appointment!