Shopping Hours:
Tuesday – Sunday 10am-6pm
Phone: 416.260.9057 or 1.855.260.9057 toll free
Fax: 416.260.9951
Email: Please click this link to use our Contact Us Form on our main Cynthia Findlay Antiques website.
Payment Methods We Accept:
Cash, Cheque, Debit, Visa & MasterCard
Store Location:
284 King Street West
Toronto, ON
Canada
M5V 1J2
View Larger Map
Wheelchair Access – regrettably, our heritage location does not permit wheelchair access.
If you send us a description or photos of the item in which you are interested, we could send you information and photos of the selection in our shop that might fit your needs. Please also check our web site. You can phone or e-mail us with your information and we will do our best to serve you.
We are on the 1st floor in the Mirvish Enterprises Building, above ROXY and beside the Princess of Wales Theatre.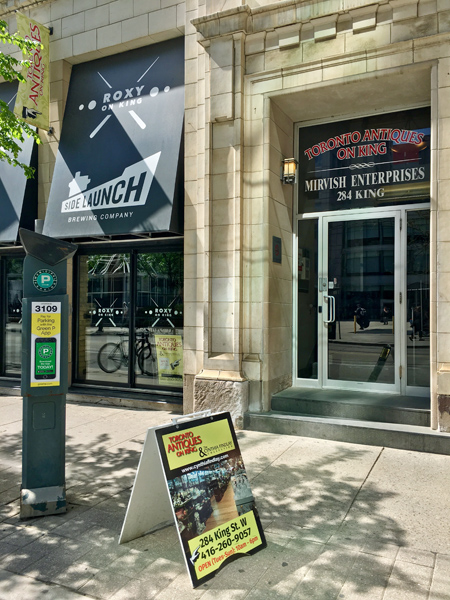 Driving – Street parking is available weekdays 9AM-4PM, all day Sat & Sun (free until 1PM Sun). There are also surface lots on John Street, one block west and off Duncan, two blocks north.
TTC – Exit at St. Andrew (King & University) and proceed west, either above ground along King Street or underground following the P.A.T.H. and surface at Metro Hall North which is across the street from Toronto Antiques on King.
ATM/Bank Machines – There is an ATM located underneath us in Roxy Bar but if you prefer to use your personal bank machine we can point you to the closest location.
Connect With Us On These Social Networks