In honour of Father's Day this weekend, 
we've put together some unique gift ideas to help inspire you. We know it can be difficult to shop for the father in your life who seems to already have everything he needs; but rest assured, these functional, elegant and collectible pieces are sure to impress!
Shown above are:
Timeless accessories like our Weber Onyx Cufflink and Stud Button Set ($65), Elgin White Gold Pocket Watch c. 1921 ($795), or a Gold filled Seth Thomas Pocket Watch worn in the movie "K.T. Kitteridge" ($495).
For the bar, a Crystal Liqueur Decanter Set (also called a Tantalous) in a beautiful velvet lined Rosewood Box ($995), a Victorian Sterling and Horn Corkscrew ($595), and classic flasks like the Wallace Sterling and Crocodile Skin ¾ pint Flask ($695), or a 1920's Arts and Crafts Planished Sterling ¾ pint Flask ($450).
In the study, Dad might enjoy this Victorian Magnifying Glass with Ivory Handle ($225), a Tortoise Shell Letter Opener with Sterling Handle ($165), or a Silver Plate Letter Opener engraved with Celtic Designs ($35).
Other suggestions include: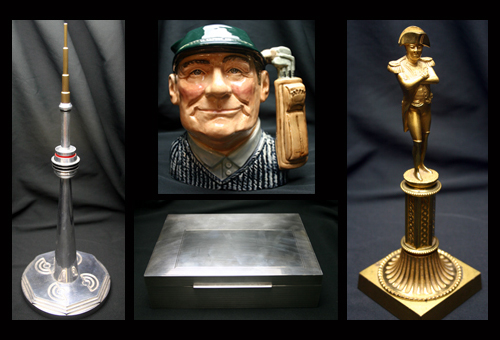 A streamlined Art Deco Birks Sterling Silver Cigar Box ($1195), or for the golf enthusiast, a highly collectible Royal Doulton Toby Jug "The Golfer" ($335). Specific theme gifts like a cast brass Napoleon Statuette ($295) or CN Tower Statuette ($395) suit collectors of all descriptions.
This is just a sample of what's in store. Come in and browse! With our large selection of antiques, collectibles and vintage finds, we are definitely the most interesting 6000 square feet in downtown Toronto, and you could pick up the perfect gift Dad will be sure to treasure.