I'm trying to write a blog about the fabulous night we had last night watching Wishful Drinking, Carrie Fisher's one-woman autobiographical show, but I am distracted because Paul Simon just came on the radio and my, the man can create a beautiful sound. "Remember me to one who lives there. She once was a true love of mine," is he singing  about Carrie? Last night Fisher advised, "if you can get Paul Simon to write a song about you, do it." Good suggestion, but I don't think Paul Simon writes songs about ordinary people and neither is Carrie Fisher ordinary.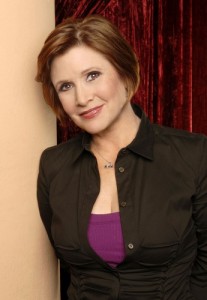 "If my life weren't funny it would just be true" opens Fisher. Trust Princess Leia to transport her audience. This time we are transported into the intimate and hilarious nuances of Fisher's mind. While simultaneously true and funny, Fisher talks as easily about mental illness as she does about "Hollywood Inbreeding."
Wishful Drinking is an intimate show, and for the Toronto Antiques on King staff that intimacy was magnified. Fisher purchased many items on her stage from Toronto Antiques on King. Last night Fisher mentioned Cynthia Findlay three times, thanking her for the beautiful objects and suggesting that she could be her set decorator.